Goldman Travel Corporation, Spencer Group of Companies and Flight Centre Travel Group (FLT) have today launched an innovative new joint venture (JV) business focused on premium and business travel.
The high-profile Australian travel industry businesses have joined forces to create Link Travel Group, an invitation-only members' group dedicated to partnering with high quality travel companies to provide an innovative and compelling service offering via travel supply, technology and business operations.
Link aims to work closely with a pool of carefully selected independent travel businesses who are highly regarded in the premium leisure and corporate travel sector in Australia.
Ownership of the JV will be divided between the three founding partners.
"Link Travel Group represents the coming together of high profile players within the travel industry  to create a new way forward for travel companies around Australia", Anthony Goldman, Joint MD of Goldman Group said. "While we will link agencies to deliver compelling financial rewards, that is only the beginning of the journey. The future is about access to world class technology, innovative business solutions and workflow improvement tools, which we will deliver. It's also about working with recognised specialists in the industry to create better ways of doing business. Access to strong hotel and tour programs for the corporate and leisure markets, online booking tools for advisors and consumers, online travel advisory tools, advanced airline booking channels and relationship management programs are some of the instant benefits that are available to our members."
Goldman Travel Corporation is a leading Virtuoso member.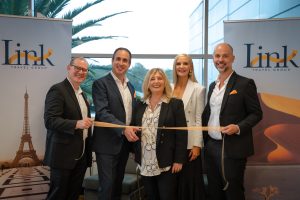 An additional advisory board, consisting of inaugural members, will also be created.