With the current state of affairs in many parts of the world and a wobbly global economy, there's a bit of uncertainty about, don't you think?
It's at times like these that certainty is your friend. Certainty, when it comes to your people, their locations and safety status in-destination, should underpin your corporate travel program.
You really should be able to locate your people at the touch of a button. Fortunately, Goldman Travel's Gold Analytics does just that.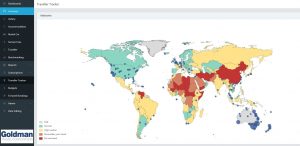 Image: Gold Analytics Dashboard screenshot pinpointing traveller locations.
We've learnt a lot in 30 years of operation. Providing travel data is one thing, for example, but making sense of it in a client-relevant way is altogether different. Likewise, we know that crisis responses aren't a one-size-fits-all proposition.
Assembled from a suite of best-in-class tech platforms over many years, and constantly sharpened, Goldman Travel's Gold Analytics program cuts through complex data and tells you what you need to know in real time.
Gold Analytics' smart dashboards display the information that procurement management teams need to manage and control travel movements and expenditure. That includes serious compliance reporting capabilities and easy access to data right across the travel supplier chain.